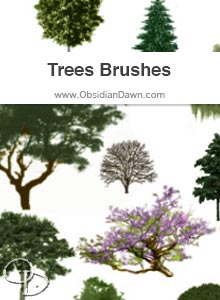 Brushes: 26
Compatibility:
Photoshop 7, CS-CS6, CC
Photoshop Elements 2+
GIMP 2.2.6+


Description: Various trees. If applied a few times, could be used as silhouettes. Or follow the "removing transparency" tutorial link below to make them into colorful trees. Includes a bonsai, palm, numerous dead or leafless trees, tons of "leafy" trees, pines, a willow, and more!



Download the image pack (for those without Photoshop & GIMP)