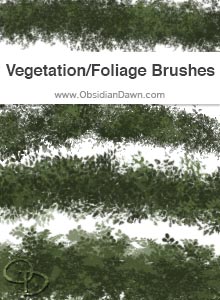 Brushes: 28
Compatibility:
Photoshop CS-CS6, CC
Photoshop Elements 3+
GIMP 2.2.6+


Description: Various texture brushes made for painting vegetation and foliage. Several bush brushes (which include some twigs and branches) as well as many with just leaves. These are made for digital artists and anyone that wants to paint in their own vegetation. It doesn't take much to get realistic looking trees, bushes, ivy, etc. with these brushes!
High Resolution!



Download the image pack (for those without Photoshop & GIMP)
Brushes Tip:
To make the best use of these brushes, create a new layer and paint with a darker green color first to create the vegetation or foliage shape that you desire (trees, bushes, vines, etc.).
Then create another layer on top of that one and choose a medium green color. Paint some highlights onto the foliage, leaving a bit of room near the bottom of the shape for shadows.
Lastly, take the eraser tool and use the same (or a different, if you want to mix it up!) foliage brush and erase away some of the medium green layer to reveal more of the dark green beneath. Just erase away small sections. Tap with the brush rather than brushing a full stroke, perhaps.
Many of these brushes were created to change shape or transparency depending upon pen pressure with a graphics tablet. If you wish to remove these options, change "Size Jitter Control" to None under Shape Dynamics (for size) and uncheck the "Transfer" option (for opacity). If you wish to add them to a brush that doesn't have them, change Size Jitter Control/Flow/Opacity Control to "Pen Pressure."
Also, some of the brushes are made to change color slightly when you use them. If you wish to remove this feature, uncheck "Color Dynamics."
If you want to be able to change the options on these yourself, and understand what you're doing, check out my Brush Techniques in Photoshop tutorial.