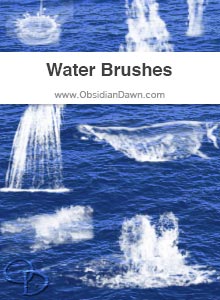 Brushes: 30
Compatibility:
Photoshop 7, CS-CS6, CC
Photoshop Elements 2+
GIMP 2.2.6+


Description: Various water shapes. Lots of splashes, various spouts and fountains, waves, and much more!
High Resolution!



Download the image pack (for those without Photoshop & GIMP)
Random Brushes Tip:
Ever tried to paint a stroke with a brush and thought that the edges didn't seem as clean and smooth as they could be? The way that the hard-edged brushes in Photoshop's "Basic Brushes" are set, that just may happen when you're working at higher resolutions.
To fix that:
Click on your brushes tab (or hit F5 to bring it up).
Click on "Brush Tip Shape" and look at the preview image of the brush at the bottom. You'll be able to see those bumpy edges if you set the diameter at a high size.
Now change the "Spacing" so that it's set to about 15% or lower. You can set it to 1% to make it perfectly smooth for those ultra-high resolutions, but if you have a slower computer, that may slow the brush down when you go to use it. So just find a nice percentage where you don't see all the bumpy edges.